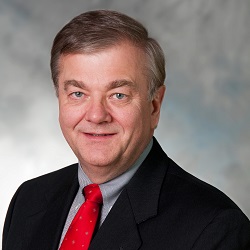 Energy Industry Experience:
 30+ years
Expertise:
 Demand Response Strategy & Technology, Smart Grid Implementation, Global Demand Side Services
Honors:
 National Communications Forum
"Most Innovative Product of 1986"
Past Chairman Peak Load Mgmt Association
Contact:
rmalme@skippingstone.com
Ross is an Owner, Partner and Member of the Skipping Stone Board of Directors. Ross joined Skipping Stone in May of 2011 and leads Skipping Stone's Smart Grid and Demand Response Practice. This practice has included leading Skipping Stone's engagement as Technical Advisor to the US Trade and Development Agency (USTDA) which is focused on export of US Smart Grid Technologies to the developing world. In addition, he is a former member of both the National Energy Standards Board (NAESB) Executive Committee Retail Gas Quadrant and the Advisory Board to the US Secretary of Commerce on Renewable Energy and Energy Efficiency.
Prior to Skipping Stone, Ross was the Director of the Schneider Demand Response Resource Center (DRRC). The DRRC develops demand response strategies for implementation by Schneider business units and country organizations. The DRRC also manages external relationships with electricity market operators, utilities, demand response aggregators and other strategic alliances. Prior to RETX acquisition by Schneider in 2008 Ross was President, CEO and original founder of RETX, www.RETX.com, an energy services and technology company headquartered in Atlanta, Georgia, USA. With more than 25 years of experience in the energy services and technology business Ross is recognized as an international leader in the development of new products and services to serve the energy industry. Ross was instrumental in the introduction of energy information products and services to liberalized markets in the USA and more recently served as Operating Agent for the International Energy Agency (IEA) Demand Side Management Programme, Demand Response Resources project. This project which included Australia, Canada, Denmark, Finland, Italy, Japan, Korea, Netherlands, Norway, Spain, Sweden and the USA has been heralded as the cornerstone for the introduction of demand side resources into liberalized electricity markets.
Ross has served as the Chairman of the Peak Load Management Alliance (PLMA), a trade association for the demand response industry in North America, leading the effort to restructure the state and federal regulatory environment for the launch of demand side services in restructured electricity markets. Ross continues to serve on the Board of Directors of PLMA and is frequently a speaker at industry meetings and national regulatory forums.
Ross was the founder of the Coalition for Uniform Business Rules (CUBR), an organization of electricity retailers focused on standardizing the business rules and lowering the barriers for entry for retail electricity competition to enable new products and services in the North American market. He also directed the development and marketing efforts for Schlumberger's automatic metering business (AMR) on a global basis and was responsible for the deployment of AMR and meter data networks in North America and Europe. Ross is the inventor of the first successful RF wireless automatic meter reading system in North America with over 90 million units deployed in the electricity and natural gas industries for which he was awarded the "Most Innovative Product of 1986" by the National Communications Forum.