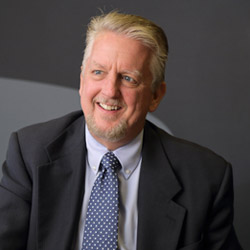 Energy Industry Experience: 25+ years
Expertise: Market Strategy & Business Plan Implementation, Mergers & Acquisitions
Honors: Ernst & Young Entrepreneur of the Year Pennwell's Top 50 Most Influential People in Energy
Contact: peterw@skippingstone.com
Peter Weigand, Chairman and CEO of Skipping Stone, has over 25 years of energy experience. Peter founded Skipping Stone in 1996. The energy strategy and market consulting firm has worked with clients across the energy industry, including natural gas, power markets, demand response, energy technology, and renewable energy.
Peter's is an interesting journey across two and a half decades of energy market change. He has been CEO of four companies in the energy and technology arena, taken one of his companies' public, bought and sold over a dozen companies and been instrumental in the success of many more.
He has direct relationships with several hundred energy market leaders and has performed strategy development for over 100 energy clients, both domestically and internationally.
Previously, as CEO of Commerce Energy, he led that company's growth into the largest US retail energy marketing company and ultimately took the company public. Subsequent to Commerce, Mr. Weigand was COO of ACN Europe, a consumer telecommunications company with operations in 15 countries.
Peter has written three energy textbooks, been published in numerous publications from Forbes and Business Week to a wide variety of energy industry standards. He has spoken globally at events from small leadership venues to conventions with over twenty thousand attendees. Peter has served on eight boards of directors, three energy think tanks and founded his alma mater's entrepreneurship center, which is ranked in the top 100.
Pennwell named Peter as one of the Top 50 most influential people in energy, Ernst & Young honored him as an Entrepreneur of the Year and his prior companies have been named to several 'fastest growing' lists, including the Inc. 500.