WASHINGTON, D.C.– January 17, 2018 – Experient, a Maritz Global Events Company, and Skipping Stone, LLC today announced the award of a contract from the U.S. Trade and Development Agency (USTDA). From February 26 through March 7 of 2018, the two firms will manage a reverse trade mission (RTM) on Electricity Smart Grid Solutions with a delegation of senior executives from electric distribution utilities, project developers and government decision makers from Uganda, Rwanda, Ethiopia and Kenya. All four countries are experiencing similar pressures in their electricity sector, expanding generation capacity including intermittent sources like wind and solar, as a driver for economic growth. At the same time, each country has publicly committed to connecting underserved segments of its population to modern sources of electricity. The delegates will visit Washington, D.C., Atlanta, Georgia and Houston, Texas to see the design, manufacture, and operation of U.S. goods and services that can support energy sector goals.
"Access to reliable, cost effective and sustainable electric power is the cornerstone of economic development in any economy", says Chip Smith, Experient Vice President of Government Affairs. "USTDA as part of the U.S. Power Africa initiative, is taking a leadership role in connecting U.S. Smart Grid suppliers with projects to modernize the electricity grid in cities in Sub Saharan Africa and to bring microgrid solutions to remote areas in countries in Eastern Africa."
"USTDA maintains an impressive rate of return on taxpayer dollars, generating $95 in U.S. exports for every $1 programmed," continued Smith. "This is a win-win for U.S. companies and emerging markets which benefit from high quality U.S. goods and services. We have also partnered on these energy related RTMs with Skipping Stone as our Technical Expert in managing the RTMs."
"This will be the ninth RTM in which we have partnered with USTDA and Experient over the last several years," says Ross Malme, Skipping Stone Partner. "This RTM creates a unique opportunity for U.S. smart grid suppliers as we will be simultaneously working on modernization of existing electricity distribution systems in each of the countries, as well as bringing 'off grid' solutions to remote regions of the countries which grid power does not exist."
"We will be emphasizing the U.S. leadership in renewable power generation, microgrid solutions, including solar PV integrated with energy storage, Internet of Things (IoT) solutions, Advanced Metering Infrastructure (AMI), grid monitoring and relay protection and big data solutions," continues Malme.
U.S. suppliers and DistribuTECH 2018 attendees participating in the largest annual T&D event in North America, who would like to be included in this RTM itinerary, should stop by the DTECH 2018 Skipping Stone booth #1401 in San Antonio, TX from January 23-25, 2018 to meet with Rebecca Kelly or contact Kerry O'Gorman via email at kogorman@skippingstone.com or phone: 770.676.0965.
About USTDA
The U.S. Trade and Development Agency helps companies create U.S. jobs through the export of U.S. goods and services for priority development projects in emerging economies.  USTDA links U.S. businesses to export opportunities by funding project preparation and partnership building activities that develop sustainable infrastructure and foster economic growth in partner countries.
About Experient, A Maritz Global Events Company®
Experient, a Maritz Global Events Company, leads the Meetings & Events Industry as one of the best-known and most-respected brands in the world. This reputation is earned with each meeting, convention, tradeshow, conference, sporting event, festival, and exhibition produced for clients.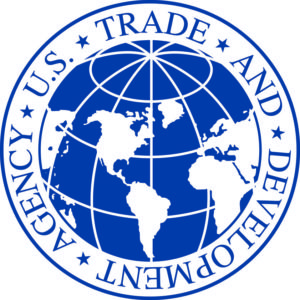 http://skippingstone.com/wp-content/uploads/2018/01/USTDA_Logo_vector_4C_800.jpg
841
841
nyoung
http://skippingstone.com/wp-content/uploads/2017/06/header-new-long-b.jpg
nyoung
2018-01-17 10:08:40
2018-01-17 10:09:14
Experient and Skipping Stone Awarded USTDA East Africa Smart Grid Reverse Trade Mission Contract