ATLANTA, GA – December 12, 2017 – Skipping Stone LLC™, a global energy markets consulting and technology services firm, announced today that energy retailers in the United States are noting 2018 challenges and are interested in seeking markets internationally, as reported in a year-end energy retail markets survey.
"We saw a big jump in retail energy companies planning to expand into international markets," said Skipping Stone Principal, John Landry. "Over 45 percent of our respondents said they were looking to expand into Japan, Europe or Mexico."
The survey identified the two biggest retailer concerns going into 2018 as gas and electric margin challenges and state regulatory concerns. The survey also indicated that retailers are expanding their customer offerings to non-commodity products and services.  More specifically, over 50 percent of the respondents are focusing on demand response.
"We also see the continuing trend behind green energy as more than 59 percent of retailers are seeing an increase in customer demand for green in energy," said Landry. "This continues to be a good area for incremental margin for retailers."
For more information and a copy of the survey results, please contact John Landry.  JLandry@SkippingStone.com 678-837-1645.
About Skipping Stone
Skipping Stone is a consulting and technology services firm that helps natural gas and electricity utilities, market participants and solution-providing clients globally to navigate market changes, capitalize on opportunities and manage business risks. The firm provides a wide array of services from innovation through strategy development, market research and assessment to implementation of business plans and technologies. Skipping Stone's model of deploying energy industry executives has delivered measurable bottom-line results for over 270 clients globally. Headquartered in Boston, the firm has offices in Atlanta, Houston, Los Angeles, Tokyo, and London. For more information, visit www.SkippingStone.com or www.SkippingStone.co.jp.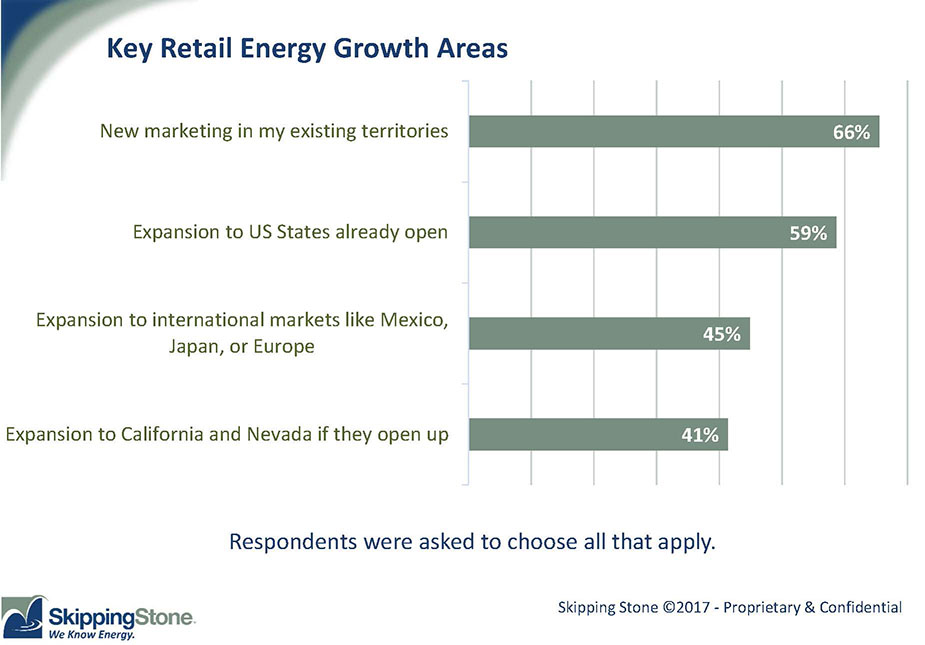 http://skippingstone.com/wp-content/uploads/2017/12/Key-Retail-Energy-Growth-Areas.jpg
1291
1851
nyoung
http://skippingstone.com/wp-content/uploads/2017/06/header-new-long-b.jpg
nyoung
2017-12-12 10:31:08
2017-12-12 11:00:29
Skipping Stone Releases Year-End Energy Retail Market Survey Results