Boston, MA – June 13, 2017 – Skipping Stone LLC™, a global energy markets consulting and technology services firm, announced today that it has received its second award in 2017, the Global Excellence Award for Outstanding International Energy Consultancy. The first award Skipping Stone received this year was in March, for the Energy Best International Energy Consultancy  recognition for our clients' successes.
The Global Excellence Awards are based entirely on merit and allow judges to recognize firms of all sizes, from multinational conglomerates to pioneering entrepreneurs, in all locations, who have gone above and beyond in the last 12 months. "The Global Excellence Award proves we have done extraordinary and innovative work in our energy industry," said Skipping Stone President Greg Lander.
"Having your body of work be recognized with a Global Excellence Award speaks volumes about the team of experts we have assembled and their dedication to providing our clients with innovative strategy development, insightful market research and implementation assistance," continued Lander.
"Now that we have set the bar high, we plan to try to raise it over the next 12 months with some of our ground breaking work in various countries," remarked Ross Malme, Skipping Stone Partner. "A hint of some of these areas include revisions to wholesale market rules in the United States that will synchronize those markets, Japan gas and electric liberalization initiatives, international retail energy, Case Studies market research, emerging strategies for various countries in microgrids and demand management, to name but a few," continued Malme.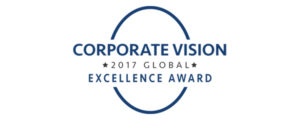 About Skipping Stone
Skipping Stone is a consulting and technology services firm that helps natural gas and electricity utilities, market participants and solution providing clients globally to navigate market changes, capitalize on opportunities and manage business risks. From innovation through strategy development, market research and assessment to implementation of business plans and technologies, the firm provides a wide array of services. Skipping Stone's model of deploying energy industry executives has delivered measurable bottom-line results for over 270 clients globally. Headquartered in Boston, the firm has offices in Atlanta, Houston, Los Angeles, Tokyo, and London. For more information, visit www.SkippingStone.com or www.SkippingStone.co.jp.
Media Contact:
Rebecca Kelly
Director of Marketing
Skipping Stone, LLC
O +1 (770) 558-2757  M (770) 401-4044
http://skippingstone.com/wp-content/uploads/2017/06/Corp-vision-award.jpg
240
600
nyoung
http://skippingstone.com/wp-content/uploads/2017/06/header-new-long-b.jpg
nyoung
2017-06-13 16:01:22
2017-06-28 15:49:30
Skipping Stone Receives Global Excellence Award for Outstanding International Energy Consultancy